Whitewater Rafting Guide Jobs & Training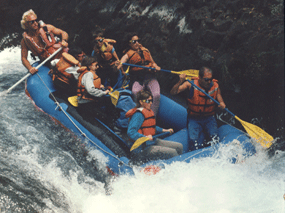 Dear prospective Guide, thanks for the inquiry about river guide training! River Riders, Inc. is a commercial river-rafting outfitter in the Northwest and rafts its guests on several different rivers. Each spring we teach groups of people how to "captain" a paddle raft, which is to guide an inflatable raft down-river and teach your crew to help you paddle away from obstacles and hazards and through the safe waters including fun waves and rapids. You will learn to recognize those hazards by "reading water" and you will know how to maneuver your raft and guests through those safe areas. Also covered in the course are subjects such as river safety, river etiquette, teamwork, environmental awareness, care of the rafts and the other river equipment, and raft repair. The logistics and dynamics of organizing a commercial river outing will be included.
We will begin training on the 2nd weekend of April and will include 6 consecutive weekends. Class time is spent mostly at the river and on the river. We plan to be on the Wenatchee, Methow and Nooksack Rivers during this time. You will need a Farmer John wet suit and booties, and plenty of warm attire since the early springtime temperatures of both the air and the water are chilly. If you have a wet suit already, great, and if you don't we can sell you a or new one at our cost, or you can rent one from us for the duration of the class. Dry suits are a nice luxury but are expensive, so this is not my first recommendation, but if you own one of these you will be most comfortable.
The cost of the course is $400 - 100% (refundable if you work 12 commercial river trips with River Riders, Inc. during your first season.) Fees are due 2 weeks before the first weekend of training. We limit the number of participants each year so we have a "first come - first served" basis. Wet suit purchase or rental arrangements can be made separately. You will need to provide your own transportation to the rivers we train on and we provide the shuttles at the river itself. Lodging is something you take care of on your own and usually involves tent or car camping.
Most people who go through our guide training are interested in working as commercial guides and we have plenty of work for those who become qualified. The training is focused on the commercial aspects of river rafting with River Riders so this course is not recommended for those who wish to simply see what rafting & floating down a river is all about. The training is very comprehensive and the days can be long. Our guests are usually people who work a weekday job and go out on the weekends to play. Consequently the majority of river guiding work is likewise on the weekends. Most river guides are ordinary people who work a weekday job and go out on the week-ends to play and get paid for it. The typical guide is someone who enjoys being outdoors and likes the water and nature and sunshine in general. They also enjoy the contact with other people, as rafting is a very social type of recreation. With this camaraderie a river guide shares his or her fun with the guests and other guides but understands that safety comes first. The pay ranges from $60 to $100 per trip with 1 or 2 trips per day.
If you would like to pursue this further give us a call at 1-800-448-RAFT or register online. Our schedule during the winter is varied, but don't hesitate to call with your questions.
We have a map with directions to "The Depot" in Leavenworth.