Tubing on the Wenatchee River
We rendezvous at Leavenworth on our exclusive private park-like riverside location where we have parking, shade trees, changing rooms/bathrooms with real flush toilets, riverside picnic tables, tubers launch, and ease of finding us on Hwy 2 at Milepost 102.
The Wenatchee River has fun easy going waves and rapids and is not too far away at the Bavarian village of Leavenworth in the Eastern Washington area which is warmer and sunnier in spring and summer than western Washington. It is for these reasons is our most popular river rafting trip. We have usually around 8 paddlers per raft plus the guide in the back of the raft. Everybody gets to participate and paddle the raft. Kids as young as 5 or 6 years of age can go but the majority of the participants in each raft should be teens or big kids or adults so the raft has paddle power. We raft from our private parking/launching/meeting place Leavenworth to Riverfront Park in Cashmere. It is about 12 river miles and we hit about 12 - 15 rapids depending on the water flows at the time of your trip and the nice gap between rapids makes this a "forgiving" river with plenty of time to rest, recover and catch your breath between the whitewater rapids. At the low water moderate river rating time of the summer we raft from up above leavenworth in the Icicle Valley down to our location where you meet us by the Wenatchee River.
Does river tubing look like more your style? Come on out to Leavenworth, Washington near Seattle from possibly late July or August and as late as maybe Labor Day (river and weather conditions dependent) for some nice weather and great tubing fun!!!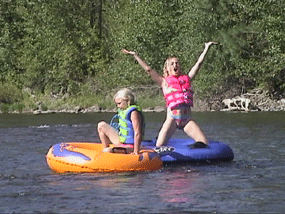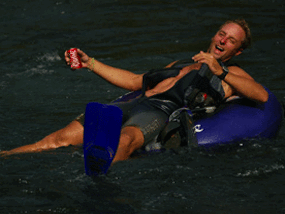 Reservations and prepayment in full required. It is best to check with us to know for sure if we are doing river tube trips the date you want to go tubing. For safety reasons we only open for river tubing when the Wenatchee River CFS (Cubic Feet per Second) drops to a level we consider to be safe for this activity - somewhere around 900 CFS. Tubing season usually ends at the end of August, so come now and get wet and wild on the Wenatchee.
Cost for tubing is $30 per person.
Leavenworth to Peshastin, Class I
2 miles - 1.5 hours, July - August
We start tubing at 11:30 am and reserve/pre-pay tubers every half hour at top and bottom of the hour through late afternoon. Our location on the East Side of Leavenworth is on the banks of the Wenatchee River and affords a great easy River Tubing opportunity when the river water drops in volume and slows down as well as warms in the Eastern Washington sunshine, and the weather is hot and sunny. We provide a commercial quality river tube with handles and cup holders, made by North West River Supplies, the leader in river equipment, and life jackets, private parking and the shuttle. We recommend kids no younger than about 4 to 5 years old on this stretch of the river for Tubing. We open at around 11:30am and close with all River Tubers back by around 6pm. Reservations are strongly recommended but sometimes we can still get last second tubers on the river. You only need to show up wearing a swimsuit or T-shirt/shorts for getting wet and you are ready to go – we'll take care of you from there. Closed on rainy chilly windy days!!
Wenatchee River Tubing Rendezvous Instructions
Just head to Leavenworth and you will find us on the east end of Leavenworth (the Wenatchee side) on Hwy 2 just across the road from Mile Marker # 102.
Where to Meet:
10860 Highway 2
Leavenworth, WA 98826
To get to Leavenworth from Seattle take I-90 Eastbound to the town of Cle Elum and take exit # 85 and follow signs to Hwy 970 and 97 North over Blewett Pass to Hwy 2. Go left on Hwy 2 and just as you reach Leavenworth you will see Mile Marker #102 and we are across the highway from it. Also, you can get to Leavenworth going east on Hwy 2 from I-5 in Everett and follow Hwy 2 to and through Leavenworth to Mile Marker #102 and turn into the parking area.Use our detail map which is not to scale as well as a Washington State Road Atlas for planning and aiding your drive.
Lunch not provided on this particular river trip.
Ready to book your tubing adventure?
Book Now!