Kayaking on the Wenatchee River
Traffic Warning: There is a bridge replacement, cliff and slope stabilization, and rerouting of Highway 2 causing delays; those planning to travel to Eastern WA along Highway 2 should allow extra time due to possible delays. Alternately, we recommend taking the I-90 and Hwy 97 route from Cle Elum to Leavenworth.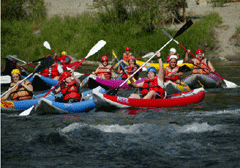 In late July and August when the Wenatchee River drops in water volume and to Class 2-3 we open our Washington Kayaking trip program. This runs with our Low Water Wenatchee River Rafting trip. A small solo watercraft, the inflatable kayak or "duckie" makes lower water seem very big! Come check us out on the Wenatchee River in Leavenworth for some great "duckie" paddling!!
We'll outfit you with an Aire or Star inflatable kayak, helmet, life jacket, wetsuit and of course, a paddle. And don't worry, you won't be on your own, we send a trained guide down the river to escort you and help you out as well as giving you some pointers. Your group can do the "duckie" trip all together or break up doing both depending on preference so some can also go in the rafts at the same time.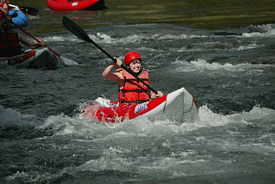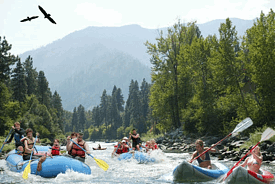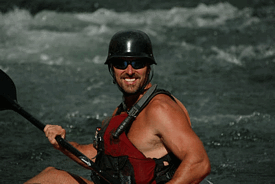 This trip is run on our low water stretch - above Leavenworth down to our meeting place where you park vehicles and the caterer has the BBQ awaiting you.
Book your Rafting or Kayaking Trip!
Book Now!